STRUT 2018
November 15, 2018 @ 6:00 pm

-

8:00 pm

Price Varies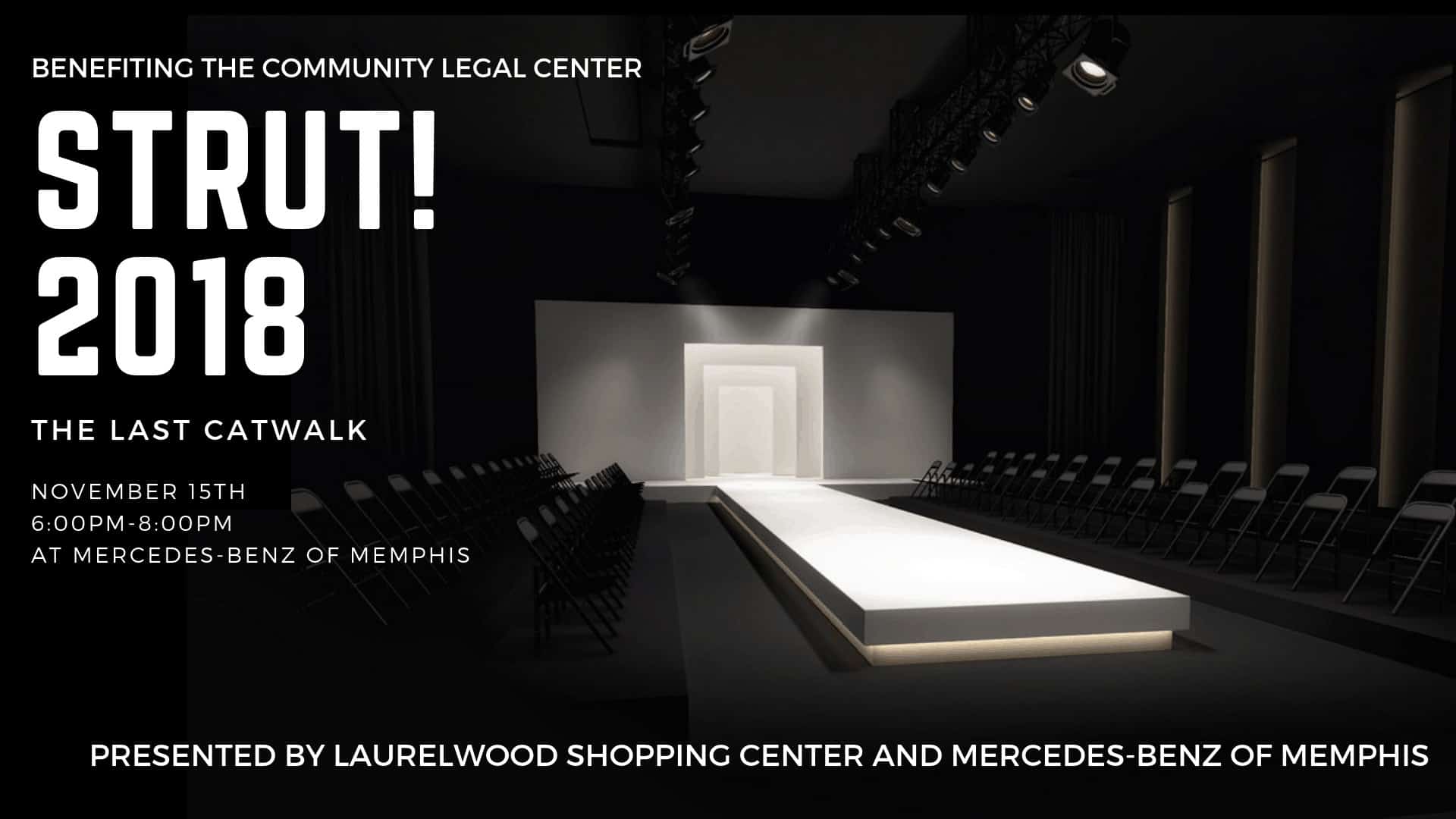 SAVE THE DATE!
Join us on the evening of November 15th from 6-8pm at Mercedes-Benz of Memphis for the final catwalk.
That's right, this is our last STRUT!
Don't miss your last chance to see the live fashion show by Laurelwood Shopping Center up close and personal! We will also have fabulous food, delicious drinks, a sensational silent auction, a wine pull where everyone is a winner, and many ways to give to the Community Legal Center.
General Admission Tickets $50 prior to the event, $60 at the door.
VIP Tickets $75, includes front row seats to the fashion show.
About Our Auction
STRUT! 2018 is the Community Legal Center's biggest fundraiser of the year. All of the proceeds from this event go to help the CLC achieve its mission to bridge the justice gap. This work is based on the conviction that regardless of one's circumstance in life, each person deserves the opportunity to seek justice. Faced with new funding challenges, we continue to grow our team and our services so that we can serve the increased demand in our community.
The Community Legal Center has provided basic civil legal services to those of limited means for over 20 years. Without our dedicated attorneys, there often would be no one to work on behalf of the people who lack the capacity to fight for themselves. From protecting vulnerable seniors to pursuing landlord-tenant disputes to assisting asylum seekers: the CLC changes the lives of lower-income Memphians daily.
The work of the CLC is vital, not just for individual clients, but for the community as a whole. As always, thank you for your support and for helping us continue to fight for our clients.
The CLC works daily to ensure access to justice for all, providing the working poor with private legal counsel in basic civil matters. The CLC handles uncontested divorces, landlord/tenant issues, immigration matters, and elder law matters, to name a few. We've been serving the Memphis and Shelby County communities for more than 20 years and continually adapting to meet the civil legal needs of our low-income neighbors is part of our DNA.
Go to https://www.32auctions.com/strut2018 for more about the Silent Auction.