Join us in helping others access justice and change their lives for the better.
Throughout our history, the Community Legal Center has provided legal assistance to our community's working poor, the abused elder, the immigrant child, and other vulnerable people not served by other legal aid providers. Each of these deserves to seek justice regardless of their ability to pay, and that is where our mission lies.
"The legal care I received would have been an elusive dream if not for my CLC attorney. She went beyond the call of duty. Throughout the process, I had confidence that I was given the best legal services thanks to her time and talents." – Carolyn T., CLC Client
Did you know more than 60% of lower-income Tennesseans have at least one civil legal problem a year, with an average of 3.6 a year? Also, studies show 44% of Americans would struggle to cover a $400 emergency.  We all deserve to seek justice, no matter what our circumstances may be.  Your donation will help those of limited means get the justice they deserve.
Become a donor to the Community Legal Center today! Consider making a Tax Deductible donation to help us help those in need.  Make your gift in honor or memory of someone, or in celebration of an event or occasion.
Join Our Community of Givers
By making a commitment to a monthly donation you help support the vital work of our attorneys and staff as they assist those in need of legal care. Joining our COMMUNITY OF GIVERS is simple, convenient, and flexible. All you have to do is select the monthly giving option and give as you see fit. For the cost of just two coffees or one lunch out a month, you can make a real difference in someone's life.
Plus, your support will help people facing all kinds of legal trouble – children who are seeking asylum, single moms dealing with unscrupulous landlords, elderly people facing financial exploitation – all need our help. Your dollars will make a difference every month!
Other Ways to Make a Difference

To give a donation of in-kind services, products or equipment:
Please review our supply wish list. For more donations, please call us at 901-545-3395 and ask to speak with an Office Manager.
To give appreciated stock, or to discuss planned giving:
To make a donation by check:
Make check payable to Community Legal Center and mail to Community Legal Center. 243 Adams Avenue, Memphis, TN 38103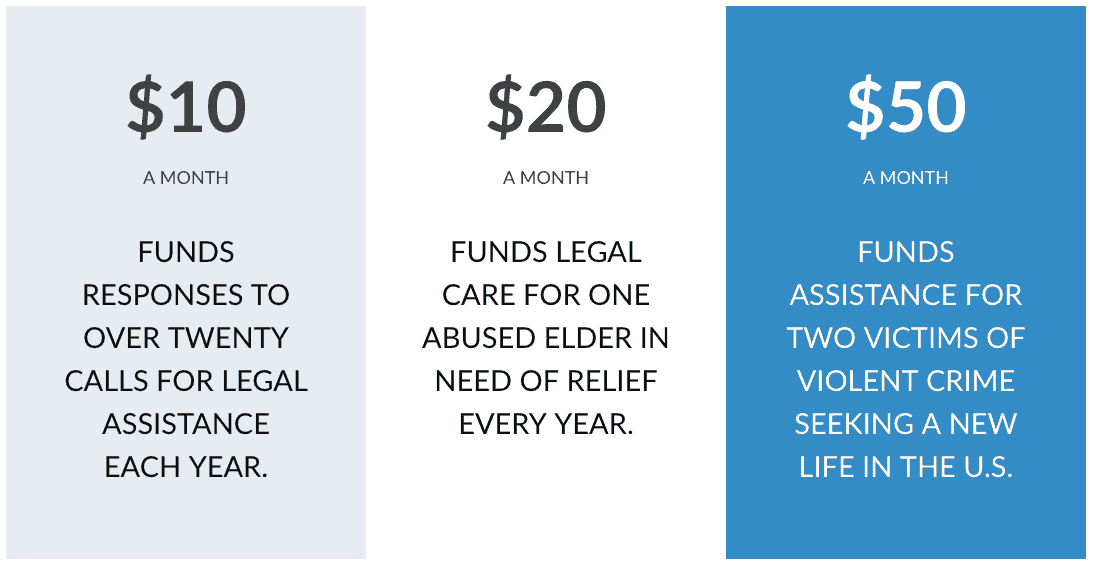 Funds responses to over twenty calls for legal assistance each year.
Funds legal care for one abused elder in need of relief every year.
Funds assistance for two victims of violent crime seeking a new life in the U.S.