Expedited Removal Prepardedness Workshop
August 17, 2019 @ 10:00 am

-

12:00 pm

Free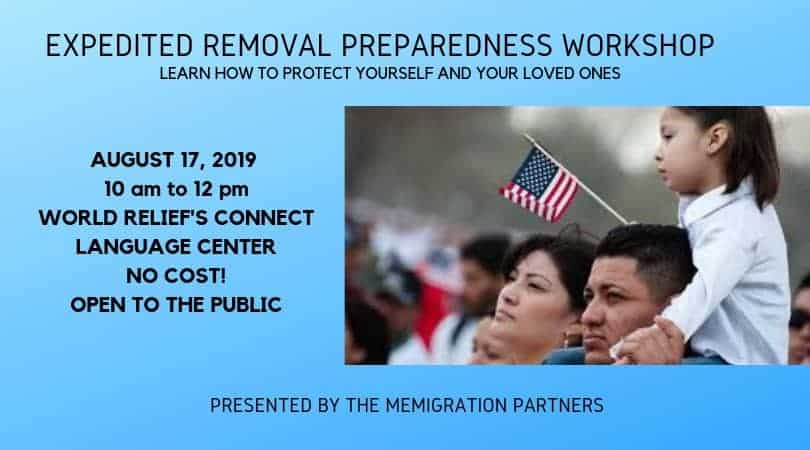 On July 23, 2019, the Department of Homeland Security expanded its use of expedited removal to any undocumented immigrant present anywhere in the U.S. who cannot prove to the satisfaction of an immigration officer that the person has been physically present in the U.S. for the two year period immediately preceding the encounter. Previously, the use of expedited removal was used only along the United States border.
Why this matters: People in expedited removal have fewer ways to fight against deportation and are more likely to be detained throughout the process than those in regular removal proceedings.
Join us!
AUGUST 17, 2019 | 10 am to 12 pm
WORLD RELIEF'S CONNECT LANGUAGE CENTER
5340 QUINCE ROAD, MEMPHIS, TN 38119
FREE AND OPEN TO THE PUBLIC
Questions? CALL (901) 543-3395
Services Available:
Continuous Presence Packets –
Attorneys will be available to assist you in assembling documents to establish your 2-year continuous presence. To participate, please bring documents such as utility bills, receipts, lease agreements, school records, birth certificates, medical documents, or church records from the past 3 years.
Power of Attorney Execution –
Attorneys will be available to assist you in creating or updating your Power of Attorney for property and/or the care of your minor children.
Presented by the MEMigration Partners